Importance and diversity Original RO accessories and Spare Parts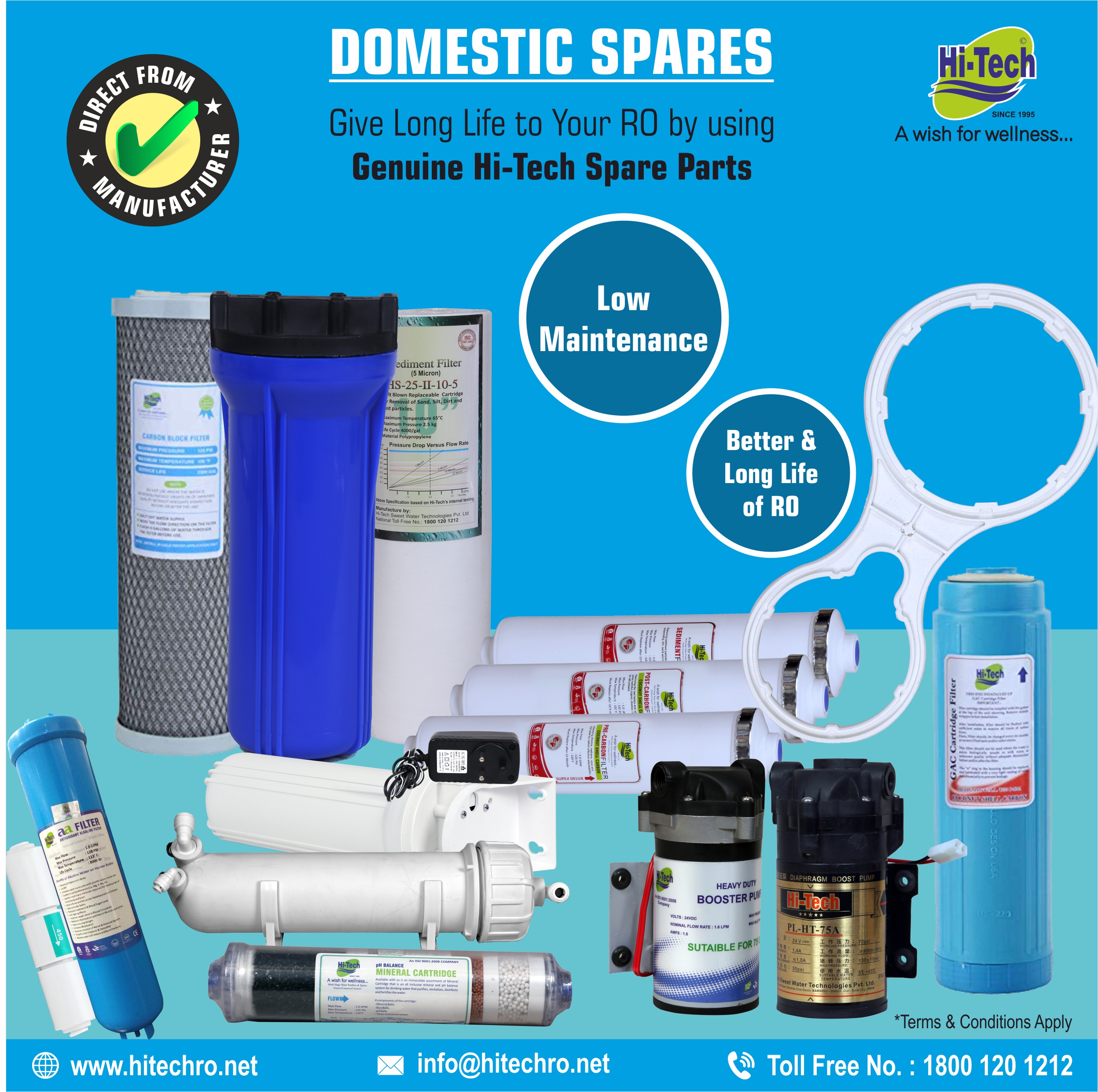 Hi-Tech has impeccable RO spare parts for diverse categories of Domestic, Commercial and industrial RO. The premium quality of RO spare parts, fittings and accessories are blessed for the longevity of RO. Hi-Tech has a cost-effective, finest quality and reliable products.
Hi-Tech has become a well-known brand for RO Membrane Elements. Here we have diverse categories of RO membranes, filters, cartridges, water pump, fittings, and Membrane housings at a very economical price.
Here we mention the name of the product with the description of their use. Now choose wisely and drink Pure, safe and healthy water.
Kindly read the following product name with their description of usage. Now take a wise decision and drink pure, safe and healthy water.
| | |
| --- | --- |
| Product Name | Description |
| RO Membranes | Membranes are the most important part of the RO. It is a filtration process which removes bacteria, virus, heavy metals, and salt |
| Booster pump | It boosts water pressure in RO and improves the produced water flow in RO. |
| Sediment filter | These filters reduce sediments from water |
| Activated Carbon Filter | It treats water with activated carbon particles. It removes chlorine, harmful organic chemicals, and enhances the taste of water. |
| CTO | It absorbs Chlorine taste and Odour from water and keeps water fresh. |
| Alkaline filter | Alkaline filter balances the pH level in the water. It reduces the acidic level from the water and improves your metabolism and gives many benefits. |
| Antiscalant Capsule | These capsules prevent membranes from scaling and enhance membranes life. |
| Activated Carbon Filter set | This comes in a set of 3 filters. 1 Pre Carbon Filter, 2 Sediment, and 3rd Post Carbon Filter to filter water. |
| Flow Restrictor Protector | It maintains the flow of water and protects from spilling |