Hi-Tech Commercial RO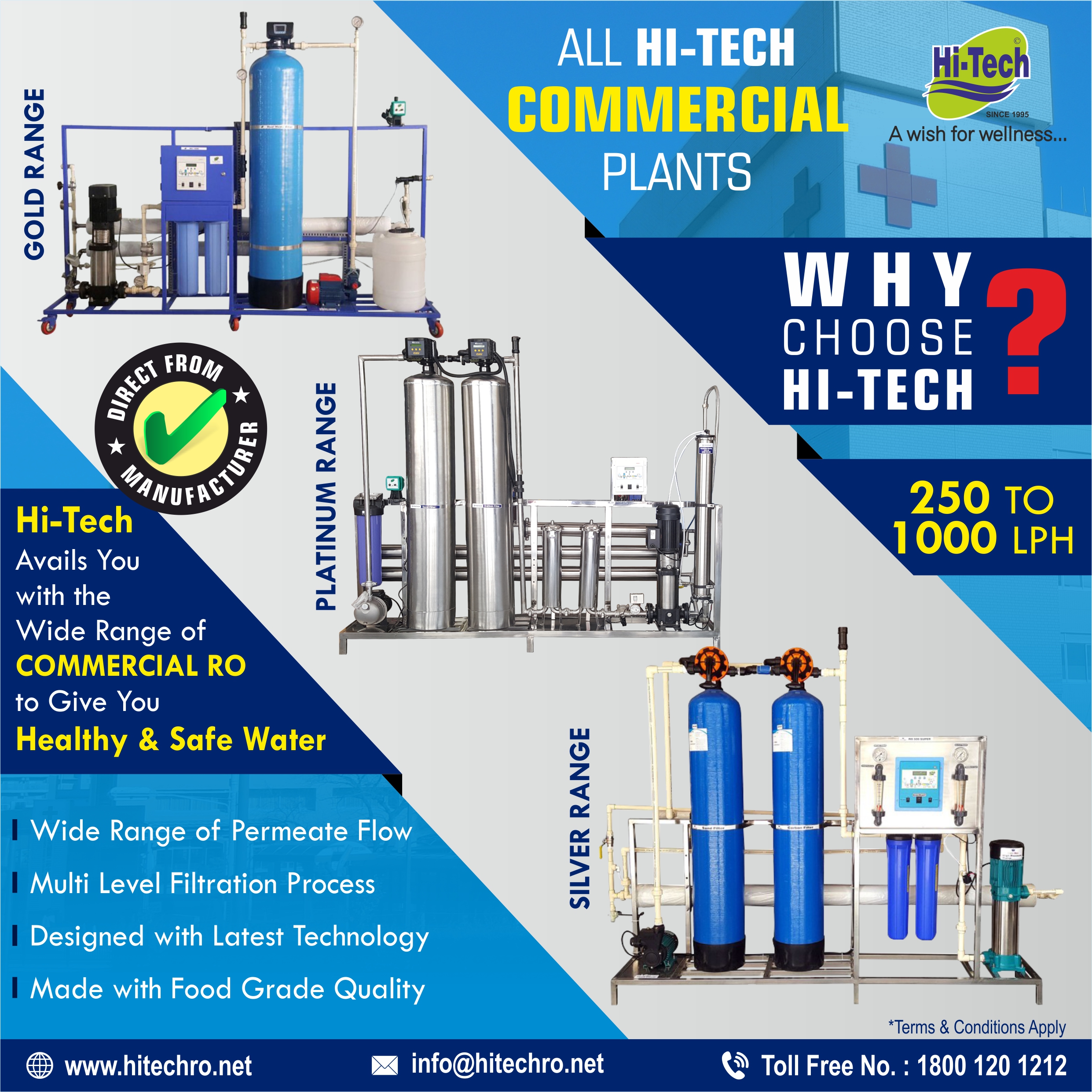 Clean, healthy and safe water is a worldwide need. We all understand the need for RO purified water; it not only gives clean water but also protects us from water-borne diseases. Using RO for commercial use like offices, hospitals, hotels, restaurants, coaching institutes, schools, etc are able to provide customers and employees safe and pure water.
Different industries and commercials processes utilize water differently. In schools and institutes water is used for drinking, in restaurants and hotels water use for making coffee and other beverages, in pharmaceutical industry water used for cleaning under their strict guidelines, at thermal plants water used for power generation and other businesses like laundry, building construction, Agriculture, and many more uses water for different needs.
The membrane is the most important part of the water treatment. It let pass water through the purification process. It filters water intensely and provides clean and safe water. RO membrane filters decompose chemicals and ensure that filtered water passes through the next process. This whole process ensures the quality of water.
Hi-Tech is a pioneering company in the water purifier industry. Here we have a wide range of commercial and industrial RO as per customer's requirement. We are manufacturer, exporter, and supplier of commercial RO plants. Our goal is to design and supply quality commercial RO. We have a perfect team of experts, who uses their years of experience to provide a quality product to achieve this goal.
Perks of Hi-Tech RO water purification plant:
1. User-friendly
2. Easy to use
3. Clean, pure and healthy water
4. Low-cost maintenance
5. Removes harmful contamination
6. Enhances the taste of water
7. Automatic switch for low/high water level
8. Automatic flush valve
9. Automatic RO controller system
10. Antiscalant system
Hi-tech provides complete water treatment solution. These are available in different ranges such as Gold, Platinum, and silver, and equipped with High-pressure gauge, Control Panel, Vessel, Housings, PP filters, Carbon Filter, Feed Pump, Multiple Valve, Flow Restrictor Pump and Dosing Pump provides well filtered and safe drinking water.
All the commercial RO system we offer at Hi-Tech available in different capacity starts with 250 LPH to 1000 LPH (Litre per Hour). A diverse category of products offers a wide range and designed to fulfill all your requirements. Hi-Tech offers high-quality of water purifiers