Domestic RO Plant – Crystal RO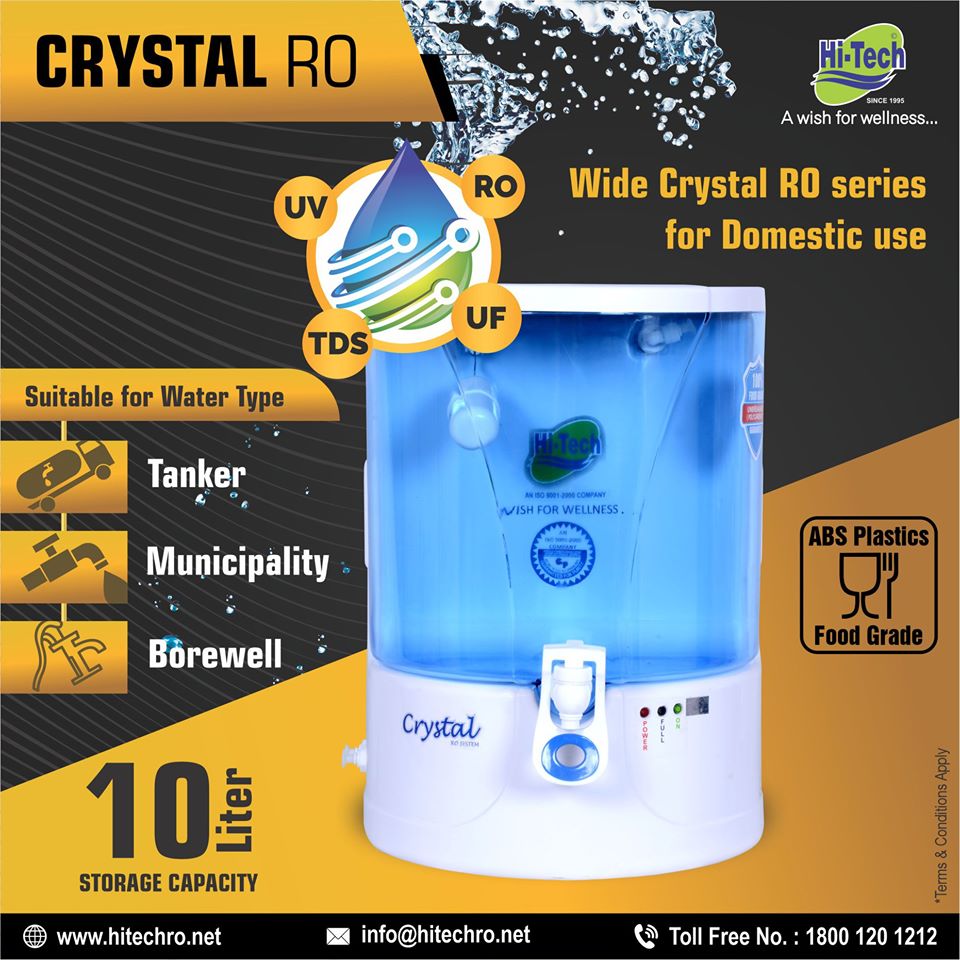 Increment in water contamination problems can be seen over the years. Increasing industrialization, population, and all types of pollution are affecting water quality day by day. It causes many severe diseases that affect a long life.
Drinking and using contaminated water can cause the following:
· Diarrhea
· Sick stomach
· Skin rashes
· Some kind of cancer can cause due to contaminated water
· Effect on the reproductive system
· Developmental problems
Hi-Tech is known for its high-quality membranes for RO, which is a crucial part of RO. Hi-Tech manufactures high-quality membranes and manufactures Reverse Osmosis with high-quality food-grade material. High-quality membrane filters water and provides only safe protected water to drink. It protects you from severe water-borne diseases and leads you to a healthy and happy life ahead.
Following is the Hi-Tech Crystal RO series: Crystal RO is one of the most reliable and trusted products of Hi-Tech
Crystal (RO+UV+TDS controller)
Crystal RO with UV and TDS controller gives you a perfect water solution. It treats water with Reverse Osmosis technology and UV rays and maintains the TDS level. It makes water healthy to drink and safe to use.
2. Diamond Crystal:
The domestic water purifier is a multi-stage water purifier with a capacity of 15 liters. It is made of high food grade quality with 1 year of warranty. It comes with 10 liters of storage capacity. It can be easily wall-mounted or countertop. Hi-Tech provides 2 services per year which improve the life of RO.
3. Diamond Crystal (RO+UV):
Water treatment is done with Reverse Osmosis and UV rays. UV rays kill all the bacteria and other living contaminations and reverse osmosis technology filters their dead particles out of the water and removes all the living contaminations also.
4. RO Crystal:
Domestic reverse osmosis plants can treat bore-well, municipal and tanker water. It can store 10 Liter water. It is made of strong and safe food-grade material that protects water and gives Reverse osmosis plant a long life. It produces 15-liter water per hour and easy to mount on a wall or counter. It holds the capacity to store 10-liter water. Its food-grade material improves the life of RO.