why you should drink RO purified water during monsoon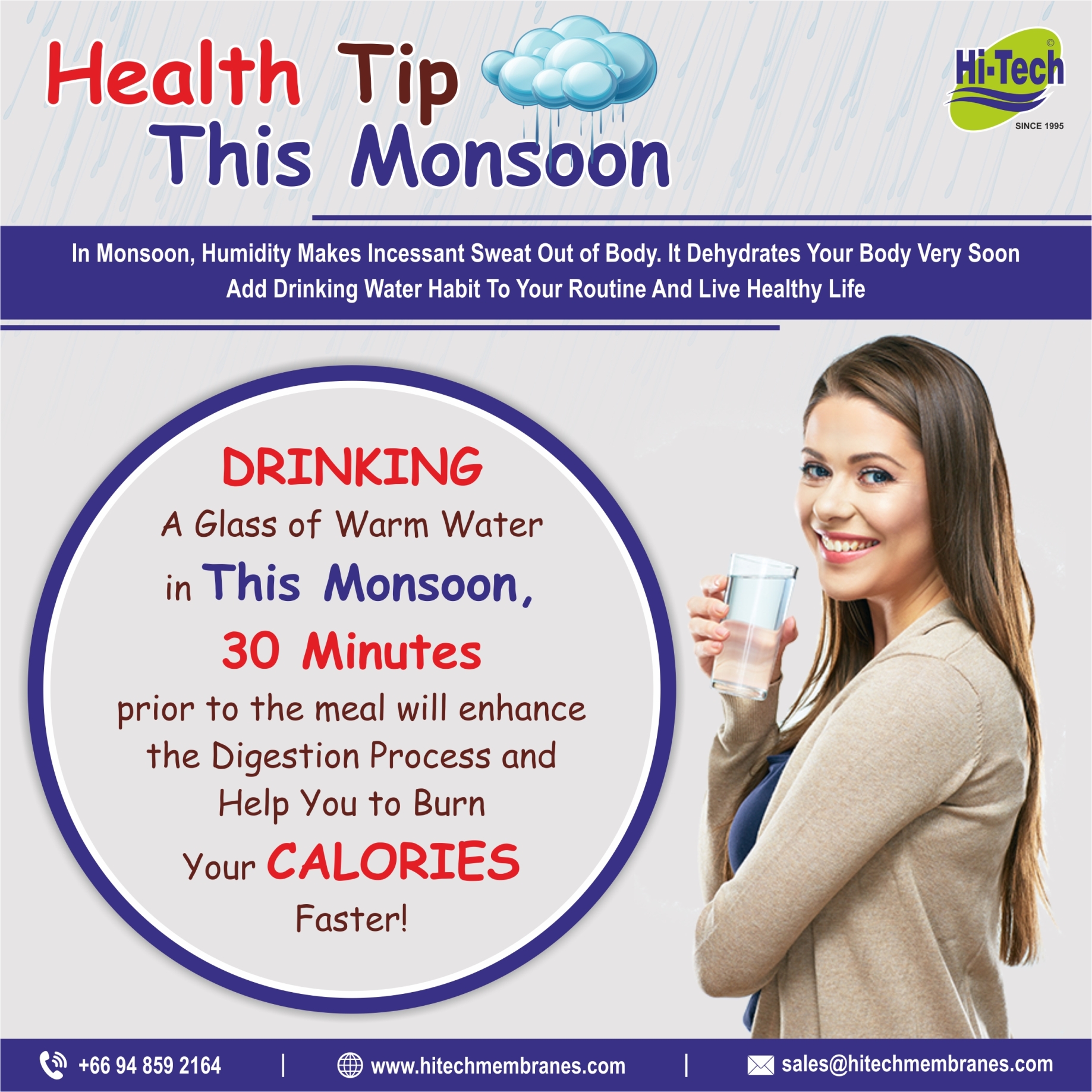 Who does not wait for monsoon? Rainy season brings joy for everyone. In this season different varieties of food make irresistible. The fragrance of moist soil lights up the mood and initiates the cravings for deep-fried food and tea. Along with joy, it brings the season of sickness: water-borne diseases, viral, bacterial infection, and many more.
Contaminated water is the host for spreading diseases. In monsoon season it is compulsory to purify drinking water. Many people don't prefer to drink water from outside and at home, they try to purify their drinking water with different methods. However, today's busy schedule doesn't allow us to follow many home techniques every day. Latest technology introduces us with Water purifier which assures the safety of your loved ones.
Hi-Tech has a wide range of Reverse Osmosis systems and water purifiers, which protects you and your family from water-borne diseases and gives healthy glowing skin
Find out some following reason, why you should drink RO purified water during monsoon:
Advance technology for new age contaminants:
Water from bore wells and tankers has higher concentrations of TDS and chemicals compared to water from lakes, rain harvested water, and rivers. It becomes a necessity to choose a good water purifier as per your requirement. To fight with turbidity, contamination, and TDS, new technology is needed to finish them completely. Water treatment is necessary and choosing the right one is important. So the smart step would be Identify the quality of your drinking water and then chose the right one.
Boiling Water
Some people prefer to drink boiled water daily in monsoon, instead of drinking RO purified water. It is not safe to drink boiled water, as it kills water-borne bacteria but fails to remove chlorine taste, organic and inorganic impurities. In the end, this is an expensive process and one can't rely on it completely.
Affect your health
Polluted and contaminated drinking water can cause you some serious disease in the long term. We get water from lakes, rivers or some other sources, where industries release their waste, acid and other dangerous chemicals. Drinking unsafe and untreated contaminated water can affect your immune system, lungs, kidney problem and can damage the liver also. These diseases trouble you a long life.
Minerals and Vitamins
Increasing pollution and unsafe water treatment affect TDS level, minerals and vitamins in the water. RO with ionizer adds required minerals and maintains pH balance to the water. Reverse Osmosis system makes water safe and healthy for you to drink.
Conclusion:
During monsoon season, water treatment is a must. Hence, be a smart buyer, first check the quality of your drinking water and then choose the right water purifier to remove the contamination and get pure and safe drinking water.