Hi-Tech Domestic RO Plants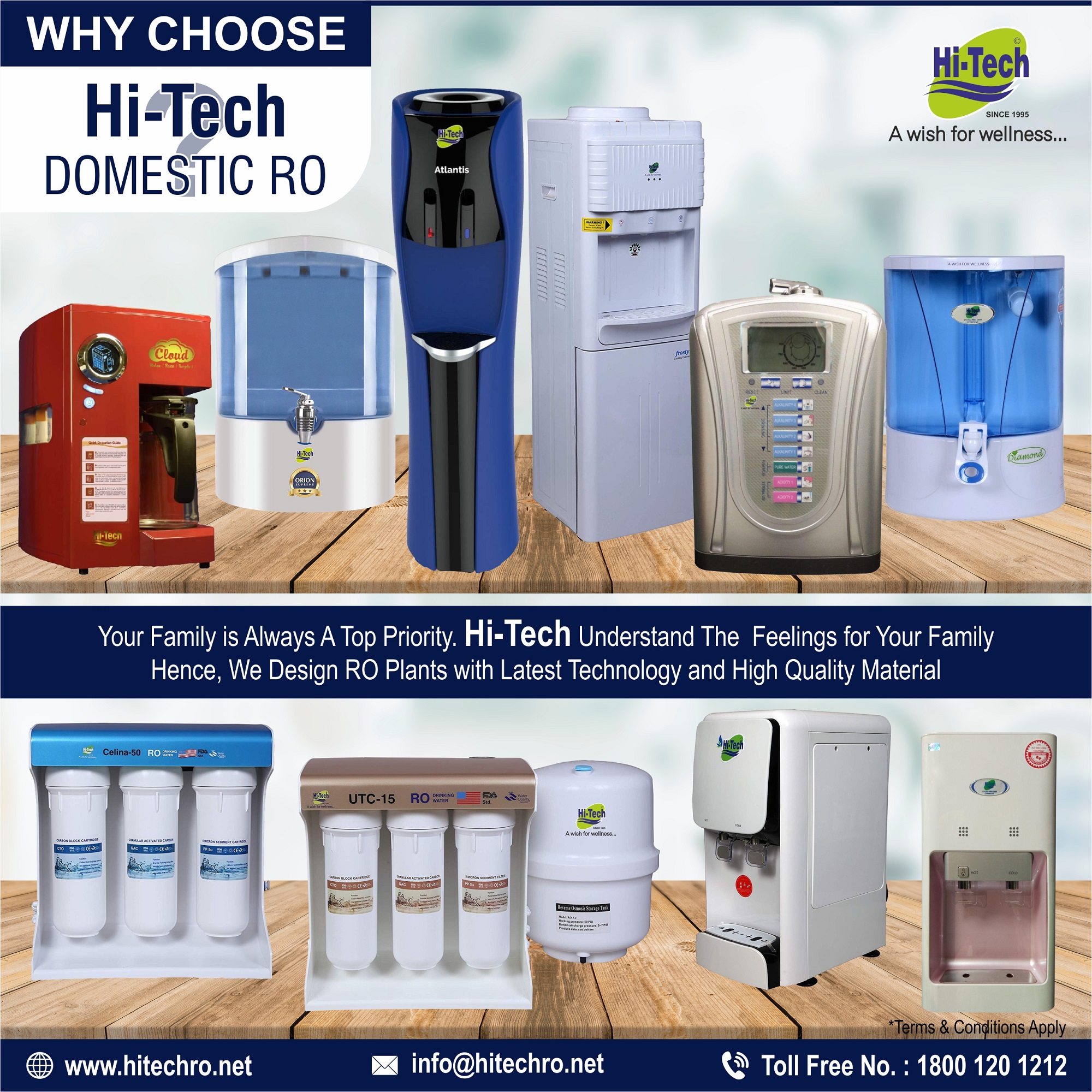 In India, the use of water has increased and water quality is degrading, which has increased the requirement of RO Water purifier. Today, you can find numerous companies for the RO purification plant. The main points to be considered while buying an RO are brand, product quality and used technology. Hi-Tech is a pioneering company in this field and has one of the most recommended quality products that are designed with the latest technology and ensures to deliver quality water. The following are some Hi-Tech RO water purifiers that are filled with the latest technology.
1. RO Cloud:
Hi-Tech introduces a portable RO plant with zero water wastage. It is easy to port. It is a super pocket savvy product, it reduces the water wastage and almost negligible electricity cost. It is an effective purifier which protects you from water-borne diseases. It gives you no installation expenses, no water wastage, No Overflow risk, voltage fluctuation protection, comes with LED Display, and required no service.
2. Celina – UTC:
In India, wall-mounted and table-mounted water purifiers are known but Hi-Tech has adopted foreign technology that is space-savvy. It introduces the CELINA series that fits under the counter. Nowadays kitchen sizes are getting smaller and modern kitchens are in trend, by considering this Celina is easy to maintain and space-savvy product. Its installation place makes it unique from other water purifier models. It reduces the minimal space problems.
3. Water Pia:
Water Pia RO is another revolutionary product that it is a countertop RO that comes with a UV system. Its elegant look is complementary to its superior performance. It is a multiple-stage purifier such as sediment, Activated Carbon, RO, and UV. Activated carbon is a great source of water purifier and reverses osmosis technology protects it from water-borne diseases.
4. Natural:
Natural water purifier with 5 stage purifier. It is designed with food-grade non-toxic material that protects water longer. It comes with a 1-year warranty and 2 services per year. It can deliver 15 Liter of water per hour. It can be mounted on the wall and counter.
5. Crystal RO:
It is a combo pack; crystal comes with RO+UV+TDS Controller. It is completely water treatment. It purifies treats water with RO and UltraViolet technology and tests purified water go through the TDS controller. It comes with AIR tight tank, unbreakable and non-toxic storage tank. It makes water crystal clear, kills all the bacteria, germs, unwanted particles, organic particles and filters them out. It can be wall-mounted and table-mounted. One solution for all the water-related problems.
6. Orion Family:
Orion water purifier series is one of the best and cheapest in the class of water purifiers. This is one of the most sold models of Hi-Tech. Orion series has 3 types that can be differentiated with capacities, designs and different needs of the customers. These are multiple stage purifiers with different storage capacity and output. These are designed as per the different desires of the customers.